God made the country, and man made the town. ~William Cowper, The Task
Summer Break Offer
B&B, 2 night stay, a home-cooked organic dinner in beautiful countryside - just €115 pps
Click here for more details and more special offers
Following the recommedations of hospitality experts John & Francis Brennan from the 'At your Service' television programme, Coolanowle Country House have converted an old stone barn into a function room with olde world rustic charm. Click here to watch the programme.
The official opening was on Tuesday the 13th November 2012. We had
a great night of our tasty barbequed organic meats from Coolanowle Organics and lively entertainment from local folk and ballad group 'The Shamrockers'
NOW TAKING FUNCTION BOOKINGS FOR "THE BARN" @ COOLANOWLE!!!
Weddings - Communions - Confirmations - Birthday Parties- Christenings - Bereavements
- Family Gatherings - Group Meetings
Menus and pricing available on request.
Special accommodation rates for functions available.
FARMHOUSE OF THE YEAR AWARD 2012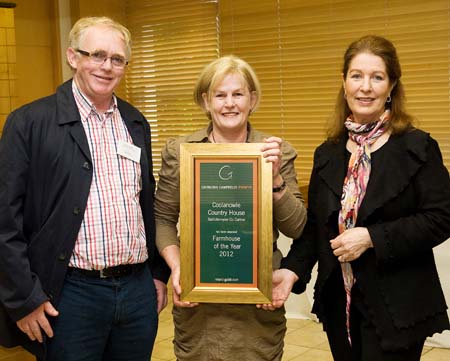 For many people especially families who live in cities – an Irish farm stay is just about the most idyllic holiday imaginable.

And you won't do better than this one, Coolanowle Country House combines an organic farm, lovely B&B (with hotel-standard rooms - and self catering accommodation too, where pets are allowed), meals based on their own meats, fruit and vegetables, online produce sales, holistic treatments, even a fantastic open day with all sorts of activities – is there nothing they've overlooked at this impeccably maintained and hospitable family farm?.........Click here for more.
Organic B&B, Farmhouse, Self Catering Accommodation, Event Location, all in one idyllic place.....
Bernadine and Jimmy Mulhall invite you to experience the hospitality of an award winning farmhouse at Coolanowle House on the Carlow/Laois border - a peaceful stress-free getaway in a haven of tranquility, just 1 hour's drive from Dublin, close to Counties Kildare, Laois and Carlow Town.
Not only a Good Food Ireland award winning B&B, offering 2 tastefully restored rental self catering cottages , but also the perfect venue for small parties / events. Set on 3 acres of natural woodland with 3 ponds, it's the perfect place to experience country living. Famous for organic traditional food and persoanl attention to detail, a stay here at Coolanowle will rejuvinate, regenerate and revive!

Tea/Coffee and home baking on arrival.
"When I go out into the countryside and see the sun and the green and everything flowering, I say to myself Yes indeed, all that belongs to me!"
Henri Rousseau